Ayoub Dardory, a "JAWDAG" (Just Another Web Developer and Architect Guy), and a passionate about web technologies, cloud and a big fan of automating stuff ... I launched couple of apps on Android by playing with my favorite LEGOs: PHP, Python and Java.
One of the most great achievements in life is to work on what you love to do, and more importantly trying to be perfect in it:
AWS Certified Solutions Architect - Associate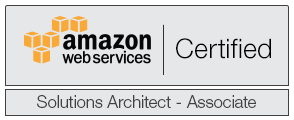 IBM Certified Solution Advisor - Cloud Computing Architecture V3

Oracle Certified Associate, Java SE 7 Programmer

If you want to contact me (or just to say a Hello World ), please be free to send me an e-mail on: [email protected] OR [email protected]
Disclaimers:
The posts of this site, including views and opinions, are my own, and don't necessarily reflect my employer's positions, strategies and opinions.
The language on which that content is written is (and will always be) English, although my native tongue is Arabic, and I ❤ it. It's just so much easier for me to talk about technical topics in English, which is mostly what this site is about.
I value attribution, if you happen to find your work, whether in the form of a project, a question or an opinion, referenced without a link to the original, please let me know as it surely wasn't intentional.